On July 2nd it was announced that Nerlens Noel was signing with the Oklahoma City Thunder for 2 years at the veteran minimum. That's right, the guy that refused to sign a 4 year/$70 million deal with the Mavericks signed for vet min with the Thunder. With Paul George, Jerami Grant, and Ray Felton all re-signing, signing Deonte Burton, drafting and signing Hamidou Diallo, and of course the trade that saw Carmelo Anthony shipped elsewhere in return for Dennis Schröder and Timothé Luwawu Cabarrot… people tend to forget about Nerlens. Well that's because not many people know a lot about him.
Well as Lin Manuel Miranda as Alexander Hamilton said in the Hip Hop Musical "Hamilton":
"(ENTER: ME)"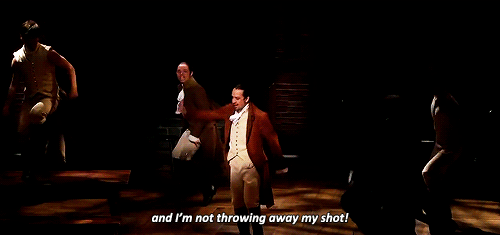 As not only a Thunder fan, but a MASSIVE Kentucky Wildcats fan (#BBN), I am here to shed as much light on the player, and personality that Nerlens Noel is.
Sit back, grab yourself a snack (maybe even a hotdog), and enjoy.
1. He graduated a year early.
I guess that's not how the cool kids say it. The correct term is "Reclassify". It's the latest flavor of the week with high school sports and the NCAA nowadays. Players like Karl Anthony-Towns, Andrew Wiggins, Andre Drummond, Marvin Bagley III, Jamal Murray, Dakari Johnson, Hamidou Diallo, and now RJ Barrett and Ashton Hagans have all reclassified. But Nerlens was actually ahead of the curve. Andre Drummond was the first high profile reclassification going from the 2012 class to the 2011 class. Noel followed suit the next season, reclassifying from the class of 2013 to the class of 2012. Basically, to reclassify, a player has to have been held back when they were younger, and complete the academic requirements in order to be granted eligibility for the NCAA. In Noel's case, he reclassified out of a class that featured Andrew Wiggins, Julius Randle, and Jabari Parker. Because he exited that class…
2. He was the #1 recruit coming out of the 2012 class.
Nerlens may get a bad rap in the NBA, with some of it being deserved and some of it not. However, coming out of high school, he was the number 1 ranked player in the class of 2012. Ranked above players such as Shabazz Muhammad, Kyle Anderson, Anthony Bennett, Marcus Smart, Gary Harris, and even future teammate, Steven Adams. He was highly coveted by the bluebloods of college basketball, but when it came down to a making a choice…
3. He announced his college decision with his hair.
In April of 2012, Nerlens Noel, along with a slew of other players went on the ESPNU National Signing Day Special to announce their decisions and be interviewed about their choices (kinda sounds like a psych evaluation). Anywho, Nerlens being the #1 guy in the class was last to announce and did so in dramatic fashion. In this, the BBN (Big Blue Nation) collectively celebrated as Nerlens Noel was headed to the University of Kentucky to supercede Anthony Davis. While Lexington rejoiced, the rest of the nation got a bit of a chuckle from Nerlen's playful side. A side, Kentucky fans saw firsthand when…
4. He almost seriously hurt himself playing 1on1 with a super fan at Kentucky.
Big Blue Madness. A game that means nothing. And is essentially a public scrimmage between the Wildcats. But in typical BBN fashion, they fill Rupp Arena every year. The tickets are free, so naturally, you have to camp out in order to secure your spot. It can be a long week during the campout (I know from experience, dude), but the players and John Calipari (Coach Cal) do their best to keep the fans entertained in the evenings.
Started by Anthony Davis in 2011, the "fan vs. player" phenomenon grew when Davis threw down a monstrous dunk on Kentucky super fan, "Carrot Top" (no not that CarrotTop).
Nerlens Noel was arranged to play "Stone Cold Willow," a UK student famous for his dancing in the student section. To Willow's credit, he was able to make a few buckets on the lackadaisical Noel, who you could tell wasn't trying to play too hard. Then the more Willow got in Noel's grill, the more Noel started slamming the ball with authority. The game ended and more fans joined. Nerlens kept his same intensity, trying to dunk people into oblivion. On one, he tried to tear the backboard off of the goal, and lost his grip careening back down onto the concrete on his back as thousands of BBN fans held their collective breaths. Nerlens was fine. Exhale. The game was over. Fans dispersed. Coach Cal, smartly, doesn't let players play fans at the campout anymore.
Before that though Nerlens showed how good he was at shot blocking, blocking everything he jumped for around the rim. Which should have led to it being no surprise that…
5. He would have led the NCAA in bpg, possibly contending with Davis's record.
Nerlens played in just 24 games for the Wildcats, but in those 24 games he had 106 blocks, an average of 4.5 (!!) bpg. Jeff Withey led the NCAA in blocks that season with 146 and a 3.9 bpg average.
To the second part, Anthony Davis set a NCAA record for most blocks in a season by a freshman with 186. Davis won the National Championship and played in the max amount of games at 40. If you take Noel's average and add it to the games Davis played… you still come up short with 178. But after the performances Noel had been putting up in terms of blocks (like the one you see above where he had TWELVE blocks, SIX after picking up his fourth foul), you would have been crazy to doubt him breaking through there.
Sadly we will never truly know because…
6. He Tore his ACL against Florida
That Kentucky team will go down as the worst in the the John Calipari era at UK. The season ended with a trip to the NIT and a loss to Robert Morris (WHO???) in the first round.
But what people neglect to recognize is that at this point in the season, the Wildcats were ranked 25th in the nation and were riding a 6-game win streak. Florida, coached by current Thunder head coach Billy Donovan, came into the game as the 7th ranked team in the nation. It had the makings of a statement game for the young Wildcats.
The Gators had taken a commanding lead, before a run in the 2nd half saw the Wildcats cut a 12 point deficit to 9. Julius Mays went to pass the ball to Noel at the top of they key before Mike Rosario seemingly came out of nowhere to steal it. Nerlens began his pursuit of Rosario as he drove towards the right side of the basket. As Rosario went up for the layup and attempted to maneuver himself around his pursuer, Nerlens deliberately jumped around the backside of Rosario's body to prevent the foul. He blocked his shot out of bounds and then came careening into the basketball goal stanchion. The play looked eerily similar to the Paul George injury in 2014 because of the commonality of the stanchion, but the injury itself looked like the Shaun Livingston knee injury. Noel's left leg seemed to bend sideways at a 90° angle at the knee.
Nerlens immediately grabbed his leg and began to writhe and scream in pain as the entire Florida home crowd sat there in silence, until his teammates helped him off of the court.
Due to the injury Noel slipped in the draft to the Pelicans, only to be traded to the Philadelphia 76ers. Which ultimately led to…
7. He is best friends with Joel Embiid. Don't believe me? Ask Embiid.
It's sad, he expressed so much desire in playing with his BFF and the crowd obviously loved seeing him out there again. But it was short lived when Nerlens Noel was traded to the Dallas Mavericks a couple of months later.
Embiid affirms his friendship with Noel
Embiid, being the competitor he is though, set a goal anytime he gets to matchup with Nerlens.
Gonna be interesting to see how Nerlens and Embiid act in their first meeting this year, after Embiid and Russ had an entire game of trolling, and Russ put the nail in the coffin with two legendary troll moves.
What's wild though is that Embiid and Noel only played EIGHT career minutes together. Reminding me of a conversation that seemed a little too familiar…
8. He had a legendary rant about playing time.
Philly was trying to ease him back into basketball, but Nerlens was adamant he was healthy and ready to contribute. He was better than 8 minutes in a game.
//vplayer.nbcsports.com/p/BxmELC/philly_embed/select/media/x9uixUMwF9PO
Sound like someone we know?
Yes, you. Although Nerlens, unlike Carmelo, is not a liability on defense, as evidenced by Noel's higher VORP and PER. But I'm not bitter.
Just saying Nerlens was probably more warranted in the "Who me?" quote than Carmelo was at the respective stages of their careers.
Nerlens was hungry for a chance to prove himself, but that wouldn't be the only time he was hungry in a game…
9. He once ate a Hotdog during a game.
During halftime of a game against the Clippers, Nerlens Noel was pictured sneaking into the media room to get a hot dog.
When asked about it, Nerlens said he "needed some energy for the second half".
He apologized and said he should have been smarter and used a ball boy. But it was a classic moment in the his tumultuous run in Dallas.
10. He will fit right in with the Oklahoma City Thunder.
Nerlens fits the Thunder for a variety of reasons. Style of play. Defensive identity. Prowess in the pick and roll.
But in a piece of evidence you won't see anywhere else (because he deleted it from his profile) taken from my personal Instagram in August 14, 2012.
Nerlens Noel's team of choice was none other than OKC. And he put a beat down on his friend.
Not convinced? Look what he has done to our rivals.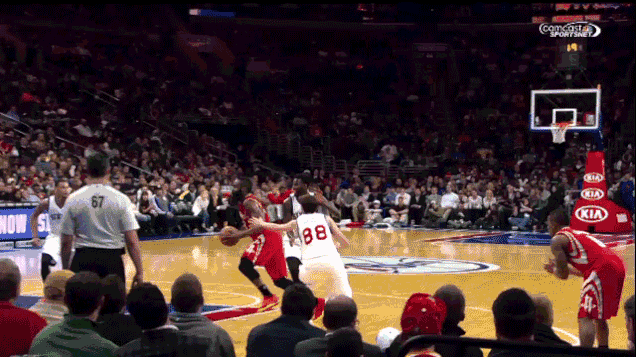 Oh, yeah! He'll fit right in. Here's hoping you get to know him a lot more this upcoming season.