Tim Bontempts (Washington Post) looks at the biggest questions facing the Thunder this offseason: "It ended with Russell Westbrook taking 43 shots for the second time in as many years in a playoff game – both Thunder losses – and getting into confrontations with fans at halftime and after the game. It ended with Thunder Coach Billy Donovan going down with the Carmelo Anthony ship, playing the fading star with the season on the line when all evidence suggested the team would be better with Anthony on the bench."
Albert Dadson (Hoops Habit) on the Thunder's options for Carmelo Anthony moving forward: "Anthony wants to be more involved in the Thunder's offense if he comes back. The problem with trying to get rid of Carmelo Anthony is the fact that he will have the final say in his status for next year thanks to a player option for the final year of his contract."
Jenni Carlson (NewsOK) thinks China is a possible landing spot for Carmelo Anthony: "That leaves lower-tier teams who might hope to create some buzz by signing Carmelo. Atlanta, Sacramento and Phoenix come to mind. Anthony would get to start on teams like that, but it'd be basketball purgatory, that in-between space before he crosses into retirement. China would be totally different. Carmelo would be an absolute sensation there."
My feelings on that: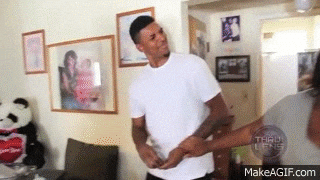 Rodger Sherman (The Ringer) on Anthony's failed experiment in OKC: "In Oklahoma City's first-round loss to the Jazz, Anthony was "bad" in the same way that an unexplained wad of human hair in a fast-food meal is bad. When Anthony was off the court, the Thunder stood a chance—in fact, OKC outscored the Jazz by 32 combined points in the series when Anthony was benched. That was most notable in Game 5, when the team mounted a raucous 25-point comeback with Anthony mostly on the sideline. But when Melo played, Oklahoma City was doomed, as the Jazz outscored the Thunder by a whopping 58 points. He was a defensive liability, useless when switched onto quicker scorers (which happened virtually whenever Utah wanted). And despite having a reputation as an offensive menace, he was brutal shooting the ball. On 3-point shots that NBA.com classifies as "open" or "wide-open," Anthony was 6-of-26. If a guy on your rec league team went 6-of-26 on uncontested 3s, you'd be like, "Man, Steve thinks he's good at shooting, but …"
So, Enes, who are the best teammates you ever played with?
Fred Katz (Norman Transcript) on Jerami Grant being the key to the Thunder's future financial issues: "Maybe most importantly, none of that accounts for Grant, a close friend of George's and the Thunder's arguable fourth-best player by the end of the year. And keep in mind, that estimated $8 million salary (which could always change in the open market) would be a mere fraction of what it would cost to bring Grant back. By that point, the Thunder could be paying the $5.75 tax rate, which means more than $45 million in additional tax money just to re-sign a sixth man."